A battery management insights paper from PowerShield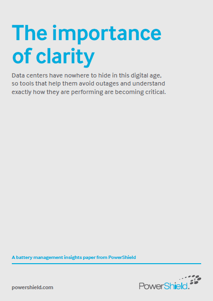 Data centers have nowhere to hide in this digital age, so tools that help them avoid outages and understand exactly how they are performing are becoming critical.
From small customer service problems, to major outages, anything a data center does has become very visible to any existing and potential customers. There is an appetite for information, and an army of bloggers, journalists and activists willing to search for and share data.
Download our insights paper to learn about:
The age of transparency
Seeing outside the box
The DCIM response to the need for clarity
The benefits of battery clarity