This white paper takes an in-depth look at the crucial role data centers play for modern enterprises, particularly in a post-Covid environment, and why battery monitoring is an essential component.
Now more than ever, organisations need to have confidence in their data centers. What they don't need are UPS failures caused by poor battery management. Nor do data center operators want to be continually replacing their batteries, especially when the right battery management system can extend the average battery life and avoid potential outages.
In this white paper, we provide insights around these key areas:
The evolution of the data center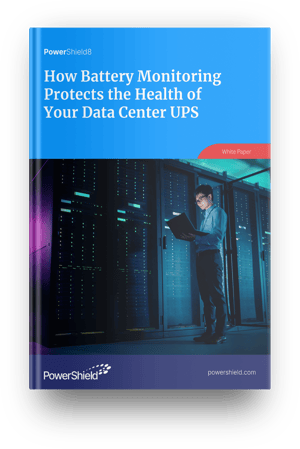 The importance of real-time data processing and analytics
The critical role of data centers in supporting continued business activity
The escalating costs and consequences of data center downtime
A look at the figures and statistics

Why protection against outages is a top priority
The crucial role of batteries within a UPS
The challenge of on-site power issues

Disruption caused by power interruptions
Why every data center needs effective battery monitoring
Ongoing monitoring and regular maintenance take the guesswork out of tracking battery health
The range of measurements that need to be taken
Quality monitoring enables better battery management
Significant cost benefits
Optimal environmental conditions
We also take a look at how we use data to help make the best battery management decisions, and give you the confidence to make good decisions about your lead acid batteries, so you can take steps to avoid potential battery failures.
Snippet from the white paper
"At the heart of the UPS is the energy-storing battery subsystem. If this subsystem is unreliable, the ability to maintain an uninterruptable power supply is put at risk, meaning the entire operation of the data center could be in jeopardy if a mains outage occurs."
PowerShield8
Battery management system
PowerShield8 is our best system yet for monitoring and managing stand-by battery banks. PowerShield's continuous data sampling, reporting and battery management capability delivers reduced costs, peace of mind that you have batteries that perform when needed, and you are maximising the life of your batteries. There are four components that make up PowerShield8.